Announcing Video Portfolio Sites From Motion Array
See an example portfolio site here.
Motion Array is super excited to announce our newest feature, video portfolio sites. We recognized that many of our subscribers are video and design professionals that rely on an online presence for work. Some subscribers are paying extra fees for other website services and some have yet to build an online portfolio.
So, we decided to create a super simple video portfolio site builder that is absolutely free to all of our paid subscribers. Now you can not only use our services to help you build great videos, you can post your great videos on a portfolio site hosted with us.
We aimed to make the site portfolio builder as simple as possible. But that doesn't mean it doesn't have lots of great features. We packed a lot into our portfolio builder, and we figured the best way to show you was to build a quick site of our own.
Your custom video portfolio sites come with everything you need to have a solid online presence. This includes a custom logo area, custom header with text, a work section with videos, an about section, a client list, and contact information.
The entire thing can be set up in under 10 minutes too!
Let's take a look at some of the features as we build a custom site of our own.
Getting Started
The first thing you'll want to do is log into your Motion Array account where you'll see the new "My Portfolio" tab. Note that the portfolio pages are still in Beta as we work with our users to make the best portfolio features around.
Under the "My Portfolio" tab in your dashboard, you'll see "My Uploads". Click on this to upload projects.
You'll be prompted to give your project a title, description, and tags. You can then drag and drop or navigate to the your project video file. Right now, only video files are supported in the portfolio.
Once the project is uploaded and converted, you can pick a thumbnail, and the process is complete.
We wanted to make it really simple to get your work online. This is the key component to the portfolio, so we strived to make it seamless.
Portfolio Settings
Clicking back on the "My Portfolio" tab, you'll see the setting for the back end of your portfolio. We included a domain address, site title, description, and contact email.
Be sure to fill out this information as the title and description will help you with SEO, and the contact email will be used to connect the contact form.
There are two options for setting up your domain. If you already own a domain that you'd like to use, click the "Use your own domain" button then follow the steps with your domain host to point your domain to our servers.
Alternatively, you can use our post.pro domain and simply pick a sub-domain of your choosing. In our case we selected dunktank.post.pro. As long as the name isn't already in use, it's yours to use, absolutely free.
Customizing Your Site
Now that you have your settings complete and projects uploaded, you can dig into the fun part of customizing the look of your site. Clicking on "Edit My Portfolio" on the bottom of the page will get you started.
Our aim from the outset was to make it easy to create a clean, modern, and responsive video portfolio site. So, we've done all of the work of designing it for you.
All you have to do is pick which sections you want to show, set your accent color, and adjust type and photos to your liking.
If you've uploaded projects, they will show up on the page in the work section automatically. If you haven't uploaded projects at this point, don't worry, you can do it later.
The first thing to notice when you start editing is the "Settings" tab on the left side of the window. Here you can toggle on and off sections of the site. For example, if you don't want a client list, simply uncheck the box and it disappears from view.
You can also easily adjust your accent color with a color picker, or input a hex code of your choice.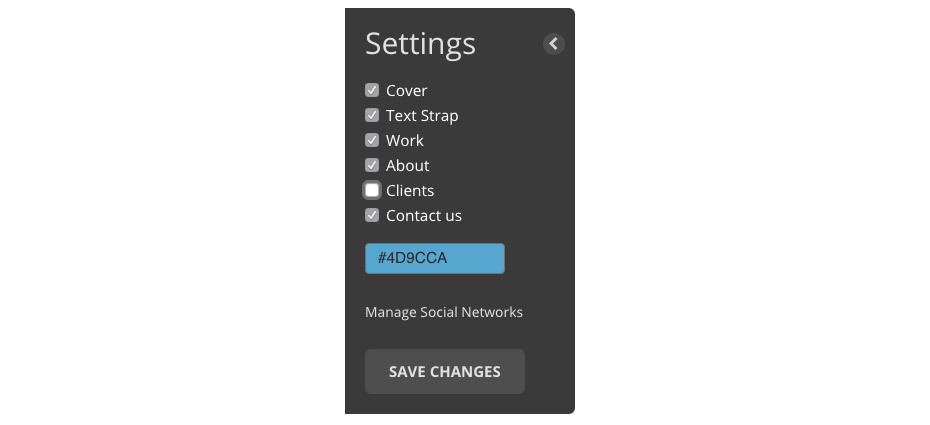 The other thing you can manage from the "Settings" tab is your social media accounts. Our portfolio sites have social media links in the footer for various services like Facebook, Twitter, Vimeo, Behance, Dribbble, Instagram, YouTube, Flickr, LinkedIn, and Tumblr. By simply inputting the link to your social media accounts, icons will appear in the footer. If you leave the link blank, no icon will appear for that service.
The last thing, and most important, to note in the "Settings" tab is the "SAVE CHANGES" button. You'll always want to click this when you make changes. Otherwise, you may lose changes you made if you leave the page. Save early...save often.
The last thing you'll want to do with the site customization is change out photos and text to your liking.
The template comes preloaded with images for the logo, header, about icons, and clients. All of these can easily be deleted by hovering over the image and clicking the trash can icon.
To upload your own image, click the upload arrow icon or the space where the photo should go and navigate to your new image. Or you can simply drag and drop the image into the browser window.
The change the image cropping, click the edit (pencil) icon and set your custom cropping. It's that easy, honestly.
Don't forget to hit "SAVE CHANGES" once you have your new photos in place.
Changing text is even easier. Just click on any of the text on the page, outside of the menu, and start typing to change it. You can also format your text in various ways to match your style.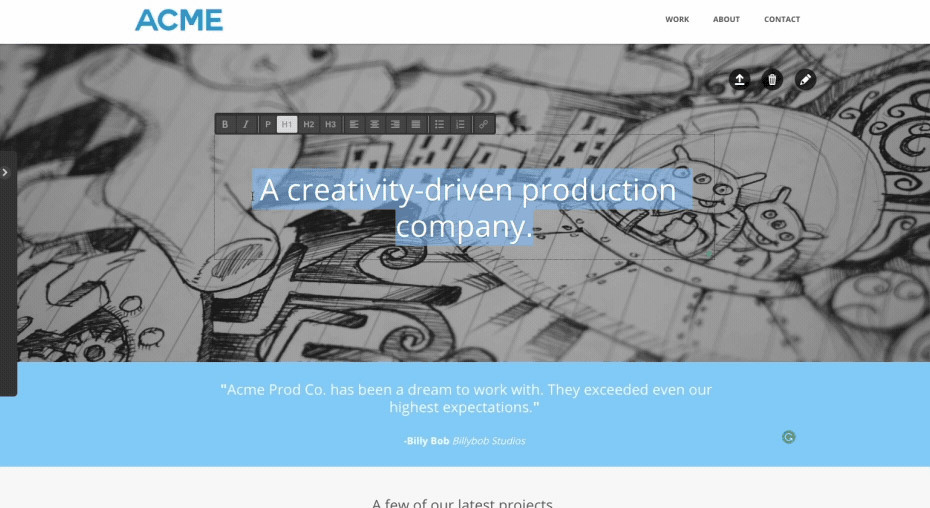 Once that is done, hit "SAVE CHANGES" one more time and your site is ready for action.
Going to your "My Portfolio" dashboard and clicking "View My Portfolio" or simply navigating to your domain in the browser will show you what your completed site looks like.
You can also watch our tutorial on building your own video portfolio site for quick reference.
We are super excited about this new feature that we think will be useful to many of our subscribers. It's just in it's infancy now and we have big plans for making it better. But we want your feedback. Please reach out to us and let us know what you think. Tell us what features you'd like to see in the portfolio builder and help us make Motion Array better for you.