Video freelancing comes with a lot of perks. You can work wherever you want, whenever you want, and on whatever projects you want, satisfied in the knowledge that all profits are flowing directly to your pockets.
The only downside of freelancing? Cracking into it and learning how to get video clients on your own.
Starting out as a self-employed creative in any field is tough. Even if you're working in an industry where there's plenty of work to go around—which is, fortunately, the case for the filmmaking and video editing—you still need to put in some serious to hustle to ensure that a portion of it goes your way. And what kind of hustle are talking about? We're talking about this sort right here…
How to Get Clients for Your Video Production or Film Business
1. Get a Portfolio!
This should be the number one priority for all newbie freelancers. A portfolio is what all your prospective clients are going to ask to see before booking you for work, plus they can do wonders for your professional self-esteem, which is especially important for anyone just starting out.
As any freelancer will tell you, seeing snippets of your best work displayed side-by-side for the first time is likely to induce a serious case of the warm and fuzzies. That's because portfolios are not only a professional marker of all that you've achieved, they're also a personal marker of where you're headed as an independent artist.
What's more, they've never been easier to make! Online you'll find a plethora of website-building services that are able to help you piece together a portfolio in minutes, and not to brag or anything, but the Portfolio platform we offer here at Motion Array is up there.
That's because it's one of the few services specifically designed for hosting video content and unlike most other sights which charge for premium features (personalized domain names, video banners, parallax scrolling, etc) Portfolio offers them up for absolutely free.
For tips on how to make your portfolio stand out, definitely do yourself a favor and check this post out. And for anyone starting out completely from scratch without any video editing samples to show for themselves—don't stress! You will be able to get a portfolio up-and-running in time. You'll just need to complete this next step first…
2. Use Freelancer Websites To Bag Your First Few Clients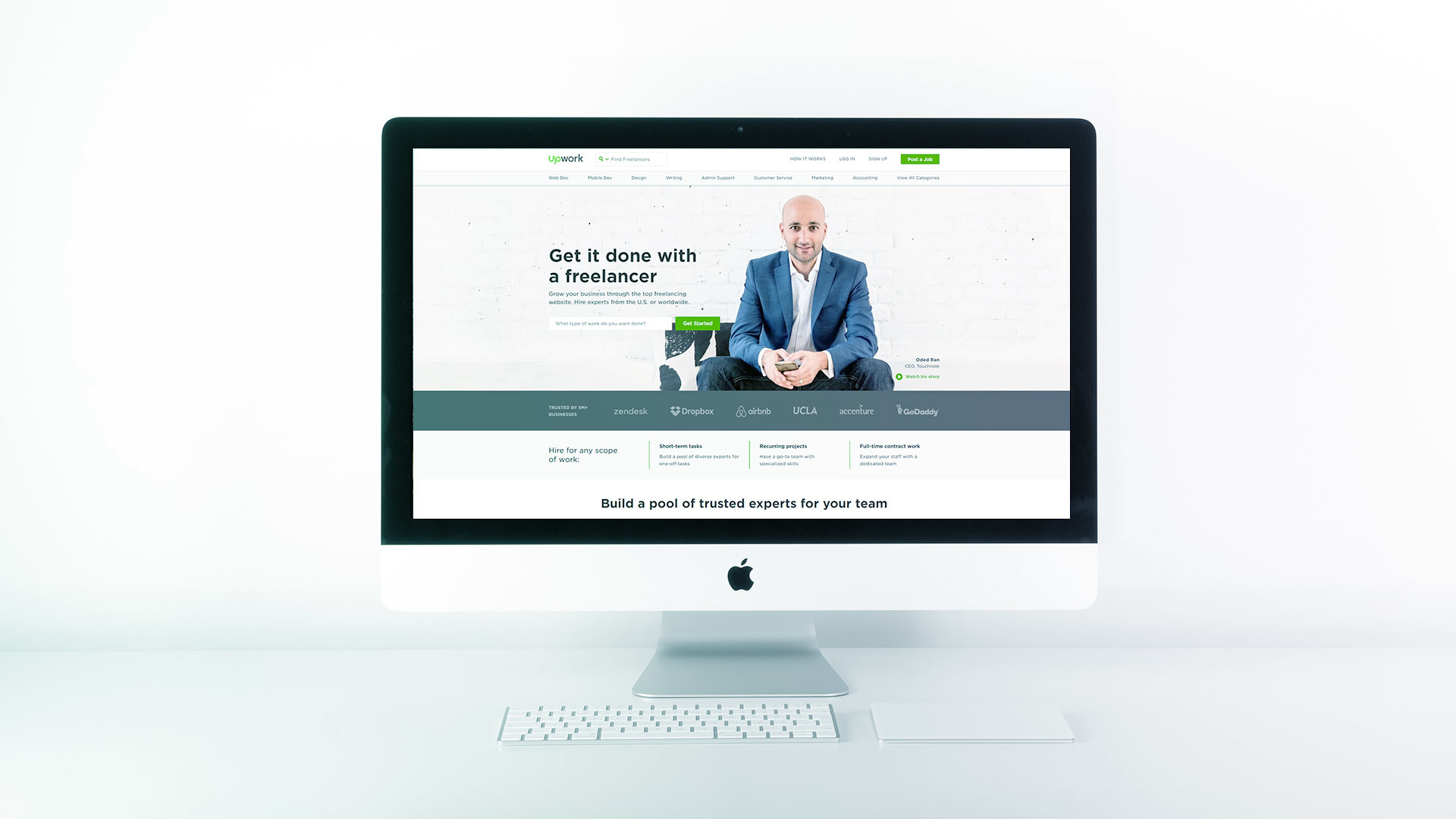 There are tons of freelancer websites that are teeming with project opportunities open to all experience levels—including those starting at zero. Some to take note of off the bat are places like Upwork and Freelancer.
Sure, these websites won't exactly provide a glamorous entrée into your new career. You'll usually be required to bid against other video editors for projects, work for next to no pay, then share a percentage of whatever money you do make with the websites.
Nevertheless, freelancer websites do provide the perfect low-stakes environment to cut your video editing chops, learn how to interact with clients, and build your confidence as a self-employed artist. The second you've got half a dozen samples under your belt you're free to get the heck out of there and start reeling in clients the serious way. But just before you do that, you're going to need to…
3. Sign Up to a Creative Agency
As handy as portfolios are for landing work, they are not an eyeball-magnet. In order to know that your portfolio exists, clients need to know that you exist. There are several things you can do to increase the chances of this happening, and one of the best ones is signing up to a creative recruitment agency.
Creative recruitment agencies are kind of like a freelancer website, only better in that they provide access to better quality, higher-paying clients and they take care of all the liaising legwork. But in return for their services, you too need to front the goods. By which I mean you need to have demonstrated experience, several good references, and sleek-ass portfolio. (Beginners are advised to hold off on hitting up agencies until they've notched all three.)
Because most of the jobs offered by creative recruitment agencies are face-to-face, your ability to find work through one largely depends on where you live. The two biggest agencies—Creative Circle and Vitamin T—cover 40+ major American cities respectively. If you happen to not reside in any one of them, then you could always try your luck with a smaller firm like The Boss Group, Artisan Talent, and iCreatives.
Alternatively, you could just do things the old-fashioned way and….
4. Find New Clients Yourself
If dealing with agencies simply ain't your jam then you always have the option to source clients on your own. Helping you do this are all that stock-standard job seeker sites (Indeed, Monster, etc.), but we'd recommend bypassing these and heading straight for industry-specific job boards.
If you ask us ProductionHub and Stage32 are two of the best going around. In addition to providing job listings, they also serve as online networking communities where you can connect with other filmmakers, find out about events, and enroll in webinars. So even if you don't end up finding work on one of these sites, your time spent on them hopefully wouldn't have been wasted.
Lastly, you could always harness the age-old power of face time by hitting up some of the post-production studios located in your city in person. Simply go in, introduce yourself, and ask to have a chat with someone about possibly jumping on a project. Offering to do your first stint for free definitely won't hurt. And even if no paid work ever comes of it, you'll have at least gained some juicy samples to plump up your portfolio.
5. Build a Reputation and Let the Clients Come to You
Lastly, and what we most recommend, is building up a profile such that you don't even need to look for clients. This is what I like to call peak freelance—where all you have to do is kick back and wait for the work requests to land in your inbox. And how does one reach this self-employed holy grail? By getting a name for themselves—which in these modern times basically equates to having a really strong online presence.
Make a point of setting up either a YouTube or Vimeo channel then set aside a few hours each month to top it up with samples from your most recent projects. If you're naturally gifted in the ways of social media then Instagram and/or Facebook are another must. And last but not least there is LinkedIn, which will likely be the most important networking site you use.
With each of these sites always remember to advertise the fact that you're open for business in both your bios and post captions and always ensure that your contact info and a link to your portfolio are easily find-able.
---
No matter where you're at in your freelance career, the burden of learning how to get video and film clients and continuously looking for new work will forever be cropping up, if not constantly there. It's hard. And annoying. But if you commit yourself to set aside a percentage of your time each day, week, or month to chasing new projects, then you should be able to maintain a healthy flow of incoming work!